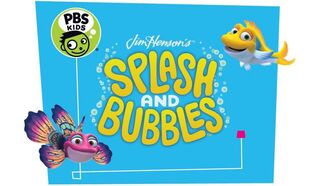 Splash and Bubbles
(originally titled
Splash!
) is an Henson Digital Puppetry series. It is inspired by
John Tartaglia
's Off-Broadway musical ImaginOcean. It started airing on November 23, 2016 on
PBS
.
Episodes
Lu the Explorer/I've Got Rhythm? (November 23, 2016)
I Only Have Eyespots for You/Double Bubbles (November 24, 2016)
Cleaner of the Kelp/How Bubbles Got Her Moves Back (November 25, 2016)
Dunk the Artist/Ripple's Sea Dragons (November 29, 2016)
Tooth Treasure/Race Around the Reef (November 30, 2016)
Dunk's New Friend/Ripple's Whale of a Tale (December 1, 2016)
Golden Legs Gush/A Fish Called Mo (December 7, 2016)
Deflated Dunk/Kelp Forest Keepers (December 9, 2016)
Splash's Swim School/Light at the End of the Tunnel (December 21, 2016)
Small But Mighty/Washed Away (December 22, 2016)
Super Splash!/Pearlene (January 17, 2017)
Guess Who?/Sleepless Sleepover (January 18, 2017)
The Kelp Needs Help/Mountain of Fire (January 19, 2017)
One Big Ocean: Parts 1 and 2 (March 1, 2017)
One Big Ocean: Parts 3 and 4 (March 2, 2017)
The Greatest Treasure of All/Crabulous (March 13, 2017)
Here Comes the Hammerhead/Denny's New Shell (March 14, 2017)
The Sand is Grand/The Treasure Trove (March 15, 2017)
Mayor for a Day/Oblo From Down Below (March 16, 2017)
Chompy's New Foods/Cloning Around (March 17, 2017)
The House Hunt/Dolphin Games (April 21, 2017)
External links
Ad blocker interference detected!
Wikia is a free-to-use site that makes money from advertising. We have a modified experience for viewers using ad blockers

Wikia is not accessible if you've made further modifications. Remove the custom ad blocker rule(s) and the page will load as expected.