Ad blocker interference detected!
Wikia is a free-to-use site that makes money from advertising. We have a modified experience for viewers using ad blockers

Wikia is not accessible if you've made further modifications. Remove the custom ad blocker rule(s) and the page will load as expected.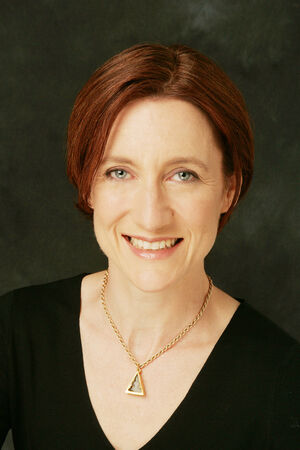 Lisa Henson (b. 1960) is the daughter of Jim Henson, and Co-Chief Executive Officer of The Jim Henson Company along with her brother Brian. Lisa Henson oversees all television and feature film production for the company - including the films Five Children and It, MirrorMask, Good Boy, and "The Muppets' Wizard of Oz." Henson recently served as producer for the HDPS-animated series Frances and The Skrumps, and was executive producer for Sid the Science Kid.
Prior to producing, Henson was President of Columbia Pictures, and also served 10 as an executive at Warner Bros. Henson graduated from Harvard University in 1983 with a degree in folklore and mythology, and has previously served on the Board of Overseers for Harvard University, Tibet House and The Jim Henson Foundation for Puppetry.
"

Questions do come up sometimes. Like with computer animation. Why are the creators of the Muppets, The Jim Henson Company, switching partially from puppetry to animation? Are we just being trendy? The truth is that there is a historical interest in this area going all the way back to my father's specific articulation of his desire to puppeteer CG characters. And after years of research, he executed that vision in the MuppetVision 3*D movie at Disneyworld with the

Waldo

character. The puppeteered animation that we now do is really something that I believe he would have accomplished over time through his intense desire to produce in that medium. It was something he fully envisioned but the technology wasn't entirely there for it yet.

The company has continued to develop his idea, continued to plug away at it for visual effects, commercials and video games. And now finally we have the

Henson Digital Performance System

that can puppeteer CG characters in real time for television and film, for fully animated shows. But the theory of it was, I believe, completely articulated by Jim. He was so interested in what was still to come in terms of technology. I spent weeks talking to him about interactive technology - trying to produce interactive programs at a time when it could not be done. His vision of what the company should be doing was extremely modern and futuristic and we are now using the exact the technological capabilities right now that he wanted to have in 1989.

"

— Lisa Henson [1]
External links
Cite error: <ref> tags exist, but no <references/> tag was found