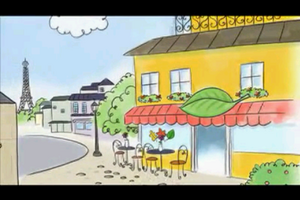 "Bistro Le Leaf" is an original song from the Sid the Science Kid episode "Don't Forget the Leaves".
Lyrics
BONJOUR HERE'S A TRAY OF OUR SPECIALS TODAY
COME AND FEAST AT THE BISTRO LE LEAF
FOR OUR PANDAS FROM CHINA
THERE IS NOTHING FINAL THAN BAMBOO LEAF HOLD THE BEEF
MR. GIRAFFE WE HAVE HALF ICARAFF
OF A VACATIALLY ICE CREAM PARFAIT
KOALA COME SWALLA
A NICE UCALIPTIS SOUFLEE

MADAM SILKWORM FOR YOU
AND EXCLUSIVELY TOO
AND EXQUISITE MULBERRY LEAF PIE
HOW ENGENIUS CHEF MADE A MILKWEED CREPE
FOR MARIE MONARCH BUTTERFLY
THEY ARE FEATHERY LEATHERY BABERY TABERY
BROWN YELLOW SILVER OR GREEN
AT BISTRO LE LEAF WE BELIEF IN OUR LEAFY CUISINE
EVERY MEAL IS A TREAT
SO BON APPÉTIT NOW EVERYONE EAT
AT THE BISTRO LE LEAF BISTRO LE LEAF BISTRO LE LEAF BISTRO LE LEAF
Ad blocker interference detected!
Wikia is a free-to-use site that makes money from advertising. We have a modified experience for viewers using ad blockers

Wikia is not accessible if you've made further modifications. Remove the custom ad blocker rule(s) and the page will load as expected.