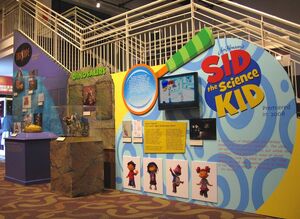 Jim Henson: Wonders from His Workshop is an exhibit at the Center for Puppetry Arts in Atlanta, GA. The exhibit focuses on the technology and techniques developed by Jim Henson's Creature Shop -- including a display on Sid the Science Kid. The items on display are on loan from the Henson Family Collection, courtesy of the Jim Henson Legacy.
The exhibit opened on September 16, 2008, and will run until September 13, 2009.
External links
Ad blocker interference detected!
Wikia is a free-to-use site that makes money from advertising. We have a modified experience for viewers using ad blockers

Wikia is not accessible if you've made further modifications. Remove the custom ad blocker rule(s) and the page will load as expected.