Ad blocker interference detected!
Wikia is a free-to-use site that makes money from advertising. We have a modified experience for viewers using ad blockers

Wikia is not accessible if you've made further modifications. Remove the custom ad blocker rule(s) and the page will load as expected.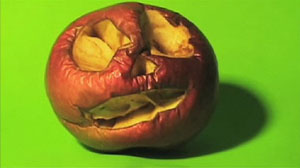 "Decay" is an original song from the Sid the Science Kid episode "My Mushy Banana". The song, sung by Susie, is about what happened to a decaying apple.
Lyrics
WHAT HAPPENED TO MY
APPLE IT'S GOING THROUGH A CHANGE
DAY BY DAY IT'S LOOKING MORE SPOTTED AND STRANGE
LOOK HOW OLD AND MOLDY IT'S GOTTEN
BLECH IT WENT FROM RIPE TO ROTTEN
DECAY DECAY
IN NATURE IT HAPPENS THAT WAY
WHILE YOU WERE DOZING IT WAS DECOMPOSING DECAY

IT GOT ICKY AND UCKY
AND UCKY AND ICKY
AND YICKY AND UCKY
AND SMELLY AND STICKY
IT WENT FROM RED AND TASTY TO GROSS AND GOOEY
IT WENT FROM FRESH TO P.UIE
DECAY DECAY
IN NATURE IT HAPPENS THAT WAY
WHILE YOU WERE DOZING IT WAS DECOMPOSING DECAY

BUT IN AUTUMN DECAYING LEAVES SMELL SWEET
WHEN YOU JUMP IN THE PILES YOU KNOW
EVERYTHING THAT DECAYS FILLS THE GROUND WITH GOOD THINGS
THAT HELP MAKE NEW TREES GROW AND GROW

YOU KNOW DECAY HAPPENS NATURALLY WITH TIME
SOMETHING NEW AND FRESH TURNS TO SLIME
IT WILL HAPPEN TO THESE
IT WILL HAPPEN TO THOSE
EVEN A ROSE WILL DECOMPOSE
DECAY DECAY
IN NATURE IT HAPPENS THAT WAY
WHILE YOU WERE DOZING IT WAS DECOMPOSING DECAY
DECAY
Credits
Releases