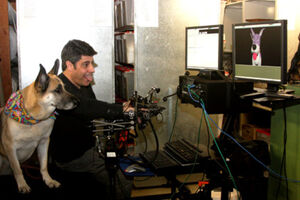 Bruce Lanoil is a puppeteer and performer who has worked on many projects with Jim Henson's Creature Shop including Dinosaurs, Aliens in the Family, Cats & Dogs, Jack Frost, The Country Bears, Adventures of Pinnochio, Dr. Dolittle, The Flintstones Viva Rock Vegas and others. He worked on with Muppets on such projects as The Wubbulous World of Dr. Seuss, Muppets Tonight, and Muppets From Space. Lanoil also performed stand-in puppets to help block scenes with the animated characters in Looney Tunes: Back in Action. Outside of the Jim Henson Company, Lanoil joined with fellow puppeteer Dave Barclay create PERFORMFX, a private character creation company.
Lanoil has puppeteered and voiced several characters in Henson Digital Performance Studio productions, including Father Badger on Frances and Philbert on Sid the Science Kid.
Digital Studio credits
External links
Ad blocker interference detected!
Wikia is a free-to-use site that makes money from advertising. We have a modified experience for viewers using ad blockers

Wikia is not accessible if you've made further modifications. Remove the custom ad blocker rule(s) and the page will load as expected.